Many successes in YouTube have been the inspiration for people worldwide. Most of the people on the internet use YouTube either to get information, entertainment, or anything. The site is also useful for those who want to promote business brands, products, or services. According to expert, YouTube now has reached more people than any other media.
It makes sense more businessmen are into this opportunity. The site can help them increase their business visibility and convert the audience into customers. They can get a better opportunity if their videos appear on the 1st page. Also, people can search directly on the site to find videos that they want to watch. YouTube search engine is as much popular as Google's. Learning from successful channels is also important for them.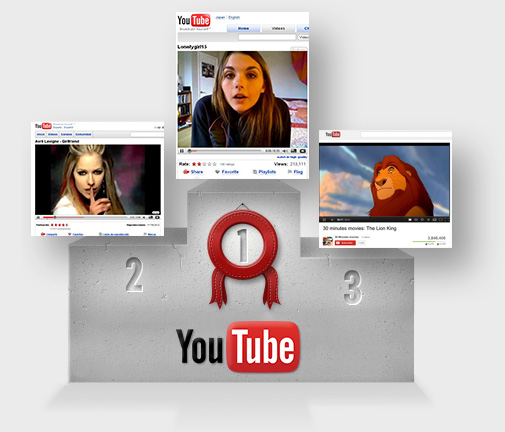 Some YouTube Successes that Inspire
There many niches to watch on YouTube. The game niche is quite popular. A channel like SkyDoesMinecraft is considered as a successful one when it is about popularity. It has gathered more than 10 million subscribers by now. Minecraft is the most popular and biggest sandbox games worldwide. Adam Dahlberg took advantage of this fact to boost his channel popularity. He made several videos focusing on Minecraft. It became successful and fast growing on the site. Due to its popularity, the owner decided to make the other two channels named SkyVSGaming and SkyDoesThings. These channels were made to show features and custom maps of the game. Apart from a game, YouTube becomes a good site to promote music videos. There's a channel called "Epic Rap Battels of History". It has gained 10,367,353 subscribers. It can be more by now, in fact. The channel was created by EpicLLOYD and NicePeter. The series show many pop figures both fictional and real against each other. The concept is a rap battle. That means YouTube audiences can watch a rap battle like "Hitler vs. Darth Vader", and many more. They decided to feature celebrity guests regularly to make the channels more interesting. In fact, they also feature some popular stars of YouTube in it.
The Most Successful YouTube User
Some may ask who the most popular YouTube user is. The answer is clear. Almost all users are familiar with an account called PewDiePie. He has gathered more than 28 million subscribers by now. Who is he? He's a Swedish gamer. The first recognition was in 2013 when his channel reached 19 million subscribers. He is famous due to his capability to entertain and connect viewers by providing interesting commentary when trying games. He usually calls his subscribers as the bro army. He really loves horror games like Amnesia. In summary, YouTube offers an opportunity for those who look for both popularity and profits. There are many things people can do with it. Those successful YouTube channels can be an inspiration for everyone. The content is important. It should be both unique and useful for the viewers. There are many niches and genres to choose from. There's no limit when it comes to the opportunity. When it comes to boosting a number of viewers, people can even take advantage of some services on the internet.