Often when people sign up for new accounts they can choose a special or certain user name. Some sites allow you to pick what you want the user name to be and other sites have preset random or programed names. However, some of the sites will not let the user change the name.
Some sites the only way the user can change the name is to delete the account and start over. Luckily there are sites that users can change the name. People want a user name that is personal or that relates to the site they sign up for. Setting a custom URL on YouTube can help a lot the business or personal branding because it makes easier to build a subscribers base.
When you sign up for an account on YouTube the user identification or URL looks like example www.youtube.com/channel/IBCab2dbath4dogucsomethi.This URL as you can see is difficult to remember and must often be copied and pasted when using it in a documentation. This type of user name or URL would be difficult for a genius to remember follow these steps to change it.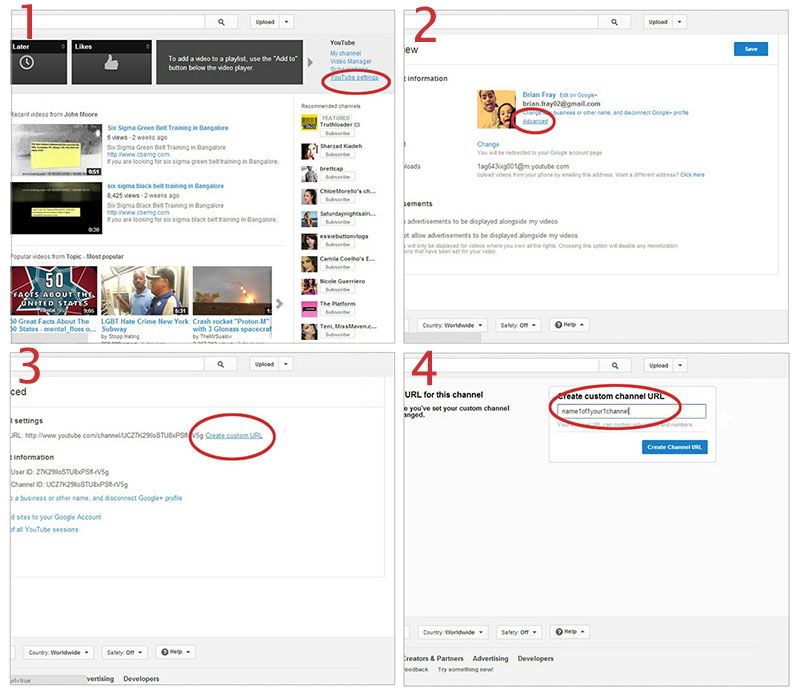 The first thing that you want to do is look to the right of the screen. Click on the the picture or the logo on the page. This will open up the next window or menu you need to find the you tube settings. Click on the you tube settings.
This again will open a new window and menu that you see your account information, name and email address. There is a tab that says advanced you will click on this tab. The next screen that will open up you will see channel setting. At the top click on the your channel URL. The next screen that opens allows you to create customized user name or URL.
Type in a name or a phrase that is unique one of a kind for you and your channel. Example Bath4doguc. The final step is to click create customized channel URL. Once this is clicked the screen will now take you back to page or you tube channel only now you will see the new user name and it is included in the URL.
Other sites will allow you to change your user identification as well if you are unsure what you need to do. You can get help on every site the site will have a help section or a contact us page. Simply ask them how you can change your user name to customize it into something you need. Or even if the site will allow the user to change the identification name on the site. If the site does not allow the user name to be changed you can find another site or create another account on the site.