Video sharing websites have become increasingly popular. One of the most widely used video sharing websites is YouTube. YouTube has been a pioneer in making video sharing websites accessible to several individuals. YouTube was created in 2005 by Chad Hurley, Steve Chen and Jawed Karim.
These three individuals were PayPal employees before they started this venture. YouTube has many features that have made it a preferable choice among users when uploading or viewing videos online. To mark YouTube's tenth anniversary, we present some interesting points highlighting this website's history.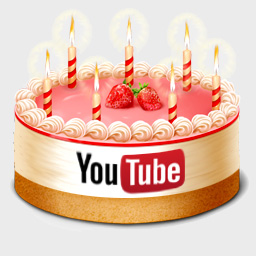 Takeover By Google
After YouTube was launched, in its first month it had three million visitors. This number kept on increasing and by the third month, their viewer count had tripled. By July 2006, their viewer count had reached a staggering total of 30 million. On its first anniversary, YouTube had a viewership of 38 million. Given the tremendous popularity of YouTube, many companies were interested in buying this video sharing website. On October 2006, Google bought YouTube for $1.65 billion. After just one year, the founders of YouTube were able to get stock holding in Google.
YouTube's growing popularity
There has been tough competition in the video sharing website industry. There are many new companies that have opened their operations after witnessing the financial benefit that YouTube has gotten from their business idea. Even though there is too much competition in the market, YouTube still remains the second largest website in terms of search reviews after Google.
Viewership demographic
Research has shown that YouTube viewers can be sorted into a specific demographic. The 12-17 years old demographic is the major part of their target market that uses YouTube. Another interesting research finding is that YouTube has more female viewers than male viewers. Due its brand appeal, YouTube has used more bandwidth than the internet used in 2000.
Vision
The founders of the company had the vision that YouTube could be used as a free site for most internet users. This is the reason that the company has the motto 'Broadcast Yourself'. The free accessibility of the website has been able to help many individuals in learning from the videos that are posted on the websites. Many learning institutions encourage their teaching staff to include informative YouTube videos in their curriculum. The motto of the website has encouraged many web experts to contemplate about YouTube's market share and its popularity in the online marketplace.
Video content
The first video to be uploaded on YouTube was 'Me at the zoo'. This video was uploaded by Jawed Karim and it shows him at the San Diego Zoo. The video was uploaded in 2005. This video is still present on the website. The first video to reach a million views was a commercial featuring Brazillian player Ronaldinho. The commercial was for Nike and the ad was titled 'Touch of Gold'.
Buying Views
There is a lot of speculation about the reasons that a video on YouTube goes viral. To help businesses in improving their brand awareness, companies can buy YouTube views. It was in 2009, that companies increasingly started to buy YouTube views to increase their brand appeal.
Accolades
Due to its widely popular success story, YouTube has been featured in several magazines and publications. In 2006, Time magazine featured YouTube on its front page as the person of the year. The magazine featured the founders and several other content developers. YouTube was reviewed by New York Times and Wall Street Journal. These publications posted several posts regarding the impact that YouTube has had on business functions. The PC magazine termed YouTube as one of the most innovative products of 2006. Due to its wide variety of videos regarding sports, some sports magazines featured YouTube in 2007.
Media coverage
YouTube has been greatly beneficial for the entertainment industry. There are many web series that are posted directly to the website. The easy access allows users to view the videos as per their convenience. Research has shown that YouTube broadcasts about one third of the entertainment data of the world. This means that YouTube is an important source of putting your views or talent on the forefront for others to view. YouTube has been beneficial for spotting talent for many production houses. Many celebrities have become famous due to their video posts on YouTube. Apart from celebrities many politician have also used YouTube to put their views across. Tony Blair was the first leading politician to have a YouTube channel.